SyDar Corporation is a full-service printer Company. We guarantee fine high quality controlled printing at competitive prices. SyDar Printing representatives are educated in all the facets of the printing trade, with experience to provide you…the customer…the expertise of knowledge and service that you require.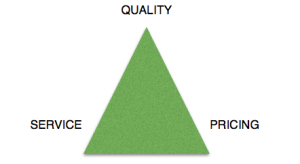 Customer Satisfaction
We strive to balance those three  qualities so customer satisfaction will always be guaranteed.
One stop, comprehensive source for all your printing and mailing service needs.

Focused and simplified customer service and client interaction.

"When you needed your print work yesterday, and must have it tomorrow, call SyDar today."

Quality control, dependable processes, and reliable service are the hallmarks of our company.

You can count on SyDar Printing putting the full weight of our experience and expertise behind every job you place with us.
Competitive pricing and superior customer service is what helps SyDar Printing stand out among our competitors in the industry. We go above and beyond, and help you maintain your bottom line.   
Eco Friendly

SyDar Printing minimizes it's carbon footprint through recycling and the use of environmentally friendly products. We recycle or reuse most of our incoming packaging materials, boxes, and pallets. We purchase paper made from recycled content, and from sustainable sources. We recycle our office paper and encourage our staff to save bottles, plastics, and aluminum by placing recycling bins throughout our facilities; our old computers and office equipment are processed in cooperation with local IT equipment reclamation organizations. SyDar Printing also uses green-certified, energy efficient lighting and power efficient HVAC systems. We have brought in lighting specialists to assist in the planning and implementation of green retrofit projects, in accordance with state and local guidelines. We use vegetable- based inks, and employ environmentally sound practices in a commitment to conduct our business in a socially responsible and globally conscious way. We at SyDar Printing not only recognize our responsibilities to our clients and employees, but to the community we are a part of.
 Experience Quality
With SyDar you can rest assured that your print product will turn out right the first time. We offer superior quality printing all backed by our 100% quality guarantee. Don't compromise on quality and see the SyDar difference!
Fast Turnaround

We offer some of the fastest printing turnaround times found online. With our 1 day turnaround option you can have your product printed and shipped within 24 hours*.